The IADE – Creative University, together with Unidcom – Research Unit in Design and Communication are pleased to announce the DDC'16 – 3rd Design Doctoral Conference. Join us for two days of keynote lectures, presentations and exhibitions advancing the state of design research. This year the theme is TRANSversality.
16th and 17th of June 2016 in Lisbon, Portugal
TRANSversality
The choosen theme TRANSversality represents the broad idea of the needs, potentials and role of design within nowadays society as a whole interconnected unit. In an era of social, economical, political and ecological crises design is playing an essential role in shaping our future sustainable realities (physical and virtual) where it gives the incentive for transversal multidisciplinary collaborations and transdisciplinary approaches inside of our own methodological frameworks. Whereas we would like to reestablish the dialog and debate between different sciences to achieve new ways of collaborations and new ways of thinking for the prosperitiy and future of well being.Seeing design as a change agent we invite you to shape the future reality with us and present your work inside of our TRANSversal Design Doctoral Conference.
DDC'16 Proceedings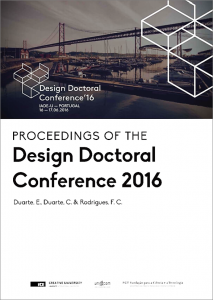 Proceedings of the DDC'16 – 3rd Design Doctoral Conference are now available for download!
Download here (14,9 MB)